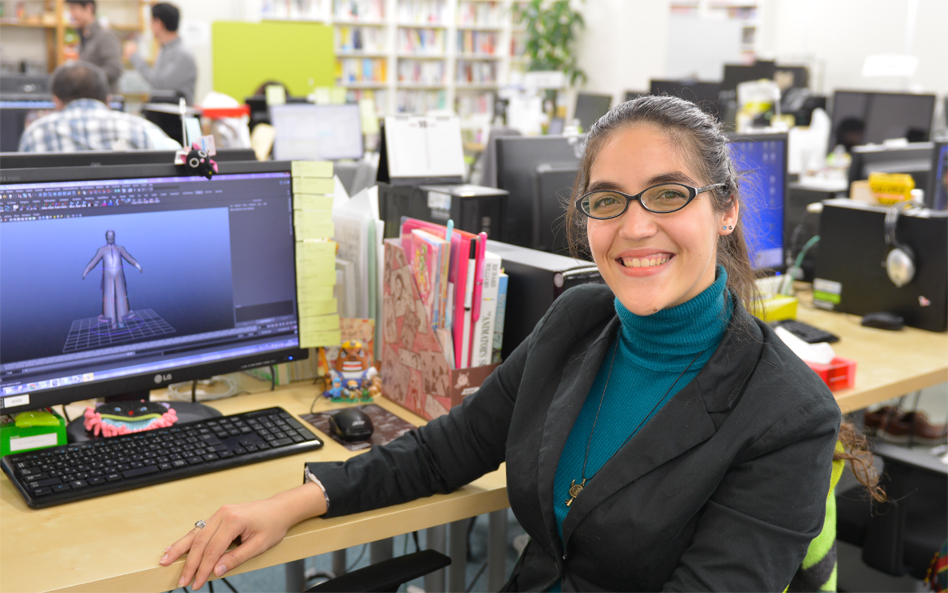 Learned Japanese in Japan.
It was my longtime dream to work at a game company in Japan. When I was small, I loved Pokemon and Dragon Ball. In America, I was an otaku respected by my friends (LOL).  I owned over 400 Japanese manga books, and also loved cosplay. (Cosplayed at this year's Tokyo Game Show too!) I couldn't speak Japanese at all when I first came to Japan, and  I learned Japanese while working as an English teacher. The interview I had at Amata was so nice that I thought, "I really want to work for this company!"  I'm so happy that I was able to join this company.

This must be a dream!
I am working on the 3D animation for "FINAL FANTASY AGITO." My first job after entering the company was the "FF" series. It was like a dream! It's really fun to create the rig and animation for a popular character that I had never worked on before. My rigging skills have also improved. Sometimes I teach other team members how to create the rig and motion. Besides animation work, I also write scripts with Python for everyone to use.  Seeing everyone being delighted makes me really happy too.
Amata was my destiny!
Amata is really unique. It's a company where you can really feel at ease. Everyone gets along very well, and the atmosphere is great. If you have a problem, you can easily talk to someone. Although I'm a foreigner, I got along well right from the start. There's no discrimination, and there are many female employees too. There's a feeling of unity. I think it was my destiny to join Amata (LOL). Although I'm still not good at Japanese and still don't know much about Japanese culture, I don't feel insecure here. I don't feel like wanting to return to America (LOL). I want to stay in Japan for a long time to come.

Many opportunities to improve your skills.
I'm working hard to become a senior 3D animator. Since I like to teach, I want to teach people aiming to become 3D animators. For me, joining Amata was such a great thing. I didn't expect to improve my skills this much during such a short time. If you aim for and join Amata, you can improve your skills!