August 26, 2021, Tokyo – Amata K.K. has released its beautiful countryside novel and walking simulator, NOSTALGIC TRAIN, worldwide for Nintendo Switch today.
Downloads for the NOSTALGIC TRAIN Nintendo Switch version available worldwide today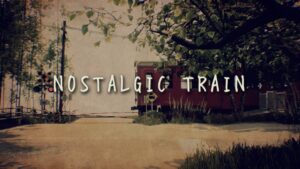 NOSTALGIC TRAIN is a mystical and melancholic first-person adventure/walking simulator set in the Japanese countryside, where you solve not only the mystery of the missing people of Natsugiri, but also that of "yourself".
The game attracted a great deal of attention on Steam® through the Japanese indie game creator Tatamibeya in June 2018 for the quality of its beautifully recreated CGs of the nostalgic Japanese countryside. It was recommended by the 22nd Japan Media Arts Screening Committee of the Agency for Cultural Affairs. To make NOSTALGIC TRAIN available to as many people as possible, AMATA has ported the game to the Nintendo Switch and made it available in multiple languages, and on August 26, it became available for download in the United States, Europe, Australia, Hong Kong, Korea, and more.
They are scheduled to open downloads for the PlayStation®4, PlayStation®5, Xbox One, and Xbox Series X|S moving forward.
It contains both a story mode, "Two fluctuations at journey's end", and a free mode, where you can explore the world of Natsugiri at your own pace. Relax and immerse yourself in a fantastical world full of tragic stories and beautiful nostalgic scenery.
Story
I was so dazzled that I could barely open my eyes. The singing of the cicadas and the humid air surrounded me. The air is filled with the faint smell of the sea breeze. I'm sitting on a wooden bench in an old station building. Where is this place? And… what am I doing here? A nostalgic countryside. A station marked "Natsugiri". A single-track railroad. As if stepping out of the purest of white light, I woke up here, my memories gone. I could not find anyone in this strange place…
NOSTALGIC TRAIN Switch version Launch Trailer
Screen Shot
* These images are for the Nintendo Switch version
Factsheet
Title: NOSTALGIC TRAIN
Genre: First-Person Adventure/Walking Simulator
Supported Hardware: Nintendo Switch™
Distributing Stores (Download only): Nintendo eShop
Number of Players: 1
Online Play: No online play available
Languages: Japanese, English, French, Italian, German, Spanish, Traditional Chinese, Simplified Chinese
Price: 1,480 JPY (Including tax, Prices may differ across regions)
Release Date: August 26, 2021
Ratings: IARC 3+, ESRB E, CLASSIND Livre, USK 0, PEGI 3+, OFLC G, GRAC All
Developer: Tatamibeya (畳部屋)
Publisher: AMATA K.K.
Official Website: https://amata.games/en/game/nostalgic-train/
Copyright: ©2018 Tatamibeya All Rights Reserved.
Links: Nintendo eShop Website
Americas: https://www.nintendo.com/games/detail/nostalgic-train-switch/
Europe (UK): https://www.nintendo.co.uk/Games/Nintendo-Switch-download-software/NOSTALGIC-TRAIN-2031611.html
Hong Kong: https://ec.nintendo.com/HK/zh/titles/70010000043352
Korea: https://store.nintendo.co.kr/70010000043351
About AMATA K.K.
Company Name: Amata K.K.
Representative: Yasutaka Masuda, Company President and Representative Director
Address: Sato Building 5F, Kita-Shinjuku 1-5-2, Shinjuku-ku, Tokyo, 169-0074, JAPAN
Established: June 25, 2008
Business: Game Business & others
Official Website: https://amata.co.jp/en/
About Amata K.K.: Founded in Tokyo in 2008, Amata K.K. has helped develop smartphone titles for a wide variety of world-renowned Japanese game companies over the years. With many staff having over 20 years of game industry experience, Amata has become a trusted one-stop shop for planning, developing and operating games across a variety of platforms. While keeping the focus on game development, Amata has also begun to expand into VR, video, media and other forms of entertainment.
"PlayStation" is a registered trademark or trademark of Sony Interactive Entertainment Inc.
©2021 Valve Corporation. Steam and the Steam logo are trademarks and/or registered trademarks of Valve Corporation in the U.S. and/or other countries.
Other company names, hardware names, service names, etc … are trademarks and/or registered trademarks of their respective owners.