Inspired by renown tidying expert and bestselling author Marie Kondo, who has sold over 13 million copies of her books worldwide, Spark Joy! is a storybook puzzle game that takes players through the joyful journey of tidying using the KonMari Method™ in the form of solving different puzzles.
– A heartwarming story for everyone
The story follows a young girl troubled by a personal struggle and after meeting Marie Kondo, she is able to face her problems, listen to her inner voice and eventually find what is truly important to her. The story is told through visually-stunning graphics, like reading a picture book, appropriate for all ages.

– The enchanting world
Sparked by joy, the girl embarks on a journey around the world and meets people facing unique worries of their own. With the help of Marie Kondo and cute Mononoke (spirited beings), the girl helps others overcome their own challenges by sharing her happiness with them and helping them find joy within through tidying.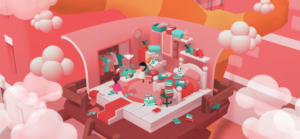 – Alternating puzzles
The game features two alternating types of puzzle games, Yin and Yang. "Yin" puzzles help clear the mind through Zen-like garden puzzles. In "Yang" puzzles, players move colorful cubes to a specified shape while clearing away unnecessary blocks.


– Beautiful soundtrack
The game's soundtrack is composed of beautiful tracks with upbeat, uplifting music for "Yang" and soothing notes for "Yin". We recommend playing with headphones.
– Additional story
A side story is told through a young boy's perspective. Sold separately.
The game is being distributed simultaneously worldwide, including Japan, North America and Europe.
Our company was in charge of the game development work in collaboration with Akatsuki Inc.
Publisher: Akatsuki Inc.
Supported OS: Android5.0 or later / iOS 9.0 or later / macOS 11.0 or later
Genre: Puzzle
Release Date: September 2nd, 2021
Official Website: https://sparkjoy.jp/
©KonMari Media Inc. ©Akatsuki Inc. All rights reserved.